PLEASE NOTE - SEE NEWS ALERT - FLU CLINICS POSTPONED DUE TO SUPPLY PROBLEMS - FURTHER INFORMATION TO FOLLOW
Flu Season 2021
The flu vaccine: who is eligible
The seasonal influenza vaccination is recommended every year for those for whom contracting flu could cause a more serious illness. The influenza virus is expected to be in high circulation this year, so those people in the groups mentioned on our flu information page, should be sure to take up the offer of the free vaccine. The flu vaccine is also recommended to and available on the NHS to anyone who is a registered carer and health and social care staff. For more information about the flu vaccine, see the NHS page.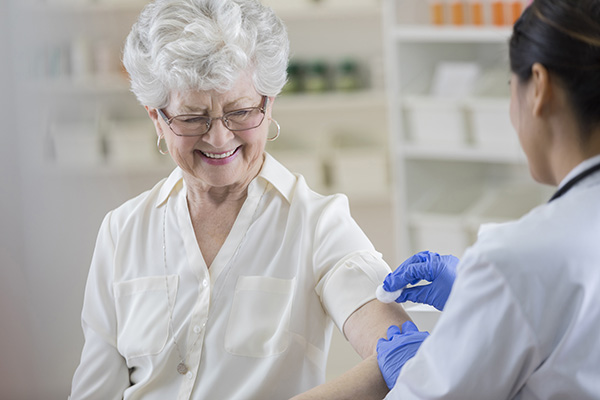 Flu Clinics: When, Where and How?
Following the success we had last year using St Anselm's School, we are planning the same again. This set up enables us to vaccinate larger numbers in quicker time, whilst remaining safe. There is also larger car parking facilities and space to allow a 'drive thru' style service. 
What about the Covid booster?
We have made the decision to deliver our flu vaccines and Covid booster vaccines separately for several reasons:
It is predicted that following low levels of 'flu in circulation last year, levels will increase significantly this year, and so we want to ensure our patients can access the vaccine as soon as possible.
We are still awaiting final guidance on how the Covid booster can be delivered. We did not want to wait for this before planning our flu clinics, for the reasons mentioned above. Also, some patients will be eligible for the flu vaccination before the Covid, so again, we did not want to delay offering the flu by waiting for the boosters to become available for all.
Logisically, giving the two different vaccinations at once may prove difficult, particularly if the Pfizer vaccine is used, as there are strict rules controlling its movement and what sites it can be delivered from. However, if anything changes then we hope to be able to offer both vaccines at once, particularly for our care home residents and housebound patients. 
As soon as we have more definitive information about the Covid-19 booster programme, we will be in touch with those patients who are eligible.
When?
Where?
St Anselm's Catholic School
Old Dover Road
Canterbury CT1 3EN
Site Map of St Anselm's School, showing entry point (blue arrow) and one-way movement of patients from the car park, through the vaccination site (red arrows):
(please note, 30 minutes free parking also available in the Park and Ride site next door. £4 fee applicable after 30 minutes)
How will this work?
All patients who are eligible for an NHS flu jab with us this year will be written to. On receipt of the letter, you will be able to book a flu jab by calling us at the Surgery. Do not call the school. If you have not received a letter by the end of September and you are certain you are eligible, please call us.
It is essential that this letter is brought with you to your appointment. Each letter contains a unique bar code. We are using this system to know who has attended rather than checking people in on a computer, to ensure swift and efficient movement of people on the day.
The letter contains all the information and instructions you will need to be aware of. But just in case, some key details are set out below.
Flu Clinics: key information for on the day
Please arrive at the time of your appointment (not early or late).
Make sure you bring the bar coded slip section of your invitation letter.
Do not turn up if you have not booked an appointment.
Do not come if you are experiencing symptoms of a high temperature, dry persistent cough or loss of taste/smell.
Be aware that there may be an element of queuing outside, so come prepared for this.
Wear clothing that will allow your arm to be quickly and easily exposed.
Make sure you have a mask or other face covering to wear when inside the building.
Please follow staff directions and instructions and follow the queue system. There will be 2 queues: one for over 65s and one for under 65s, so it is possible you may be briefly separated from your partner if you come together and are in different age categories. This is because there are 2 different vaccines this year for each group.
There are no toilet facilities on site.
You will see whichever clinician becomes available first for your vaccine: we cannot allow you to choose who injects you.
We have hundreds of patients to see on each day and so the clinic will be fast paced. Please help us manage this by cooperating to ensure you are ready to be vaccinated by the time you reach the front of the queue (ie face mask on, arm exposed, letter to hand).
There are facilities and equipment available should you feel unwell after having your vaccination.
After your injection, providing you are well, you will be asked to immediately vacate the building and make your way to the exit.
For patients who are less mobile, or who attend in a taxi, there will be a section of the car park where you can pull up and receive the vaccination in your car.
A big thank you to St Anselm's School for allowing us to use their space and supporting us with the delivery of these clinics, which continue to be larger than ever and organisationally challenging!
Did you spot us in the local newspaper last year? The Kentish Gazette featured an article about our planned flu clinics in their 10th September edition. You can see the article here.
Published: Aug 11, 2021