Delays in Flu Vaccine Deliveries
Due to a shortage of HGV drivers, we have been warned that our expected delivery of flu vaccinations, scheduled for week commencing 13th September, will be delayed.
This will impact our clinic planned for 18th September, and possibly the one planned for 9th October. 
Unfortunately, we will therefore have to postpone at least the first clinic, planned for 18th September. We apologise for this inconvenience. We will not know when we can reschedule until we are given a date for redelivery, and will confirm as soon as possible if the clinic on 9th October is affected.
 We have sent hundreds of letters and spent lots of time ensuring our clinics were planned to run efficiently, and so this is hugely disappointing for us. At the time we planned our clinics in August, we were promised there would be no issues with supply.
However, this is a national problem, with Surgeries up and down the country facing the same issue: https://www.bbc.co.uk/news/business-58442611 
We have temporarily paused booking in flu vaccination appointments, and will be in touch with patients who have appointments already booked to confirm any cancellations. We will be back in touch once we have a date to which we can reschedule.
We apologise for the inconvience and hope that for appointments that need to be cancelled, understanding will be shown towards our staff, who now need to spend a lot of time undoing lots of hard work that has already taken place, before rebooking hundreds of appointments once we are given a new delivery date.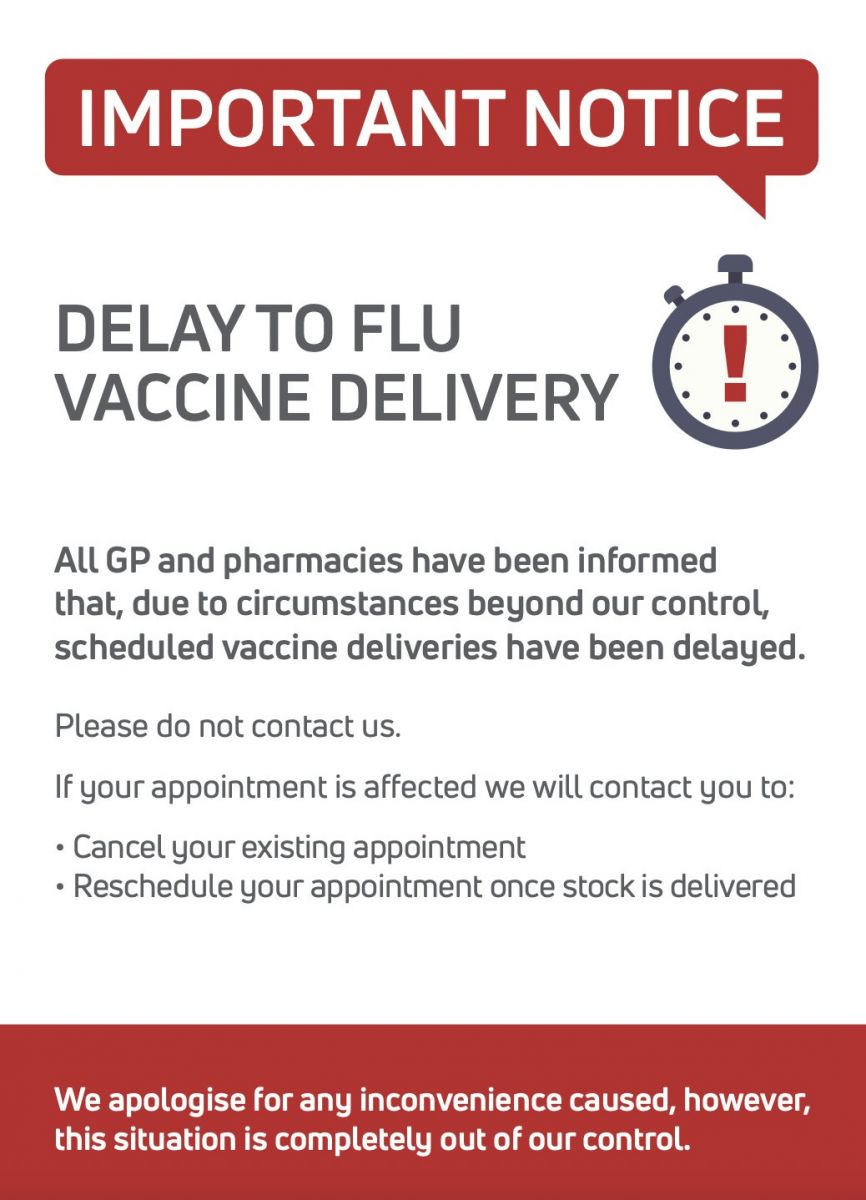 Temporary suspension of routine blood tests
Again, due to supply chain problems, the NHS is chronically short of the vials needed to collect blood samples.
As a result of this, we have been instructed to suspend blood tests until at least 17th September, unless a GP deems a blood test clinically urgent. https://www.bbc.co.uk/news/business-58394899
We have already had to cancel a number of pre-booked blood tests, and apologise that we will be unable to book routine blood tests for the next few weeks. 
Please remember that the above issues are adding the immense pressure our staff are already under, and so we really appreciate your patience and understanding.
Published: Sep 6, 2021